Government – A Business Directory
Government Category of A Business Directory is a collection of unique websites. A few examples are the Navy Seals, the Hurricane Hunters, Citizens Against Government Waste, NASA, Arlington National Cemetery and more.
Hurricane Hunters Association
The 53rd Weather Reconnaissance Squadron, Department of Defense,  Air Force Reserve is responsible for the different flying jobs at the Hurricane Hunters Association.  Half of the positions are part-time (traditional reservists), and half are full-time (air Reserve Technicians).  There are 40 pilots, 20 navigators, aerial reconnaissance weather officers, and weather loadmasters.  In addition, there are numerous support personnel that work in various fields such as flight administration, life support and various maintenance specialties.
Every mission requires two pilots a designated aircraft commander and the other is the co-pilot. There are additional workers such as the Navigator, who prepares the navigational flight plan and inspects the navigational equipment prior to flight.  During the flight the Navigator used the equipment (inertial, global positioning satellite, and radios) to determine where the aircraft is and uses radar to avoid severe weather.
There is also a Aerial Reconnaissance Weather Officer, who acts as the Flight Director in the storm environment.  They continuously monitor atmospheric data that is ingested from the aircraft sensors every second.  They check the data for accuracy  and then use the information to guide the crew right to the center of a storm where they direct a "sonde" release and take observations that disseminate through satellite communications directly to the National Hurricane Center.
There is also a weather Loanmaster/Dropsonde System Operator.  He has two jobs on the WC-130 Aircraft.  They are Loadmaster, which requires making sure everything is loaded and tied down properly in the cargo compartment, as well as scanning the exterior of the airplane during engine start and monitoring the health of the plane during the flight by inspecting the engines and other aircraft systems.  This person can also be tasked for several missions, in addition to weather reconnaissance, such as aero medical or transportation.  During a weather mission they are responsible for collecting vertical weather profile data.
For interesting reading visit Hurricane Hunters Association and a Non-Profit Organization.
Navy Seal & SWCC
To become a Navy Seal, there are rigorous, physical and mental evaluation.   At the Navy Seals, SWCC website, they have a really cool map which has all the Navy Mentors who you can contact if your are serious about applying for the Special war fare Combatant, Craft Crewmen.  If you are interested in contacting a Mentor take a look at the website.
If you are thinking of trying out to become a Seal,  here are the basic procedures:
Pr-enlistment medical screening, 2 Armed Services Vocational Aptitude Battery, 3. Computerized – Special Operations Resilience Test, and 4. Navy Seal Physical Screening Test.  The ASVAB is used to assess a candidate's mental sharpness and ability to learn.  While the C-Sort is used to screen their maturity and mental resilience.
If you are interested in more information regarding the Government Military Navy Seals,  visit their website.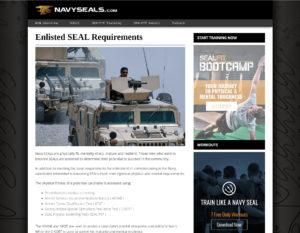 For Navy Seals Requirements, you really need to visit his website. You will find more information regarding C_SORT, Computerized Special Operations Resilience Tests.
Visit NAVY SEAL. COM or click the photo.
A Business Directory
We are a web directory that showcases professional businesses websites that are informative and benefit the general internet user.  We know there are hundreds of directories on the internet and we want to be different more colorful and selective.  We have provided you with websites that are attractive to the eye and function properly.  We have also showcased many of our favorite humanitarian project websites.
We also have listed some of our favorite You Tube Videos.  Many of the websites listed are our personal pics at random and some came to us via their desire to list with us.  Some sites are websites created by Advance Your Listing, Cory George Website Designer.  Currently we have many categories for you to pick from.   If you don't see a category that would interest you, please let us know, we will consider adding it.  Please give us a suggestion via email.
Before submitting your website, please consider our submission policy for compliance.  We only accept websites for consideration that do not have gambling, no adult content, no nudity and no illegal activities.  Website must be Search Engine Friendly.  All websites must be in English and we will consider websites from other countries.
Directory Categories and Sub-Categories Available:
Automotive, Auto Accessories, Auto Parts, Auto Services, Autos for Hire Auto Detailing, Auto Insurance Companies.  Aviation, Airplanes, Helicopters, Unmanned Aircraft. Business & Finance, Insurance, Personal Finance Directory, Business Insurance, Construction, Building Contractors, Flooring, Carpet Cleaners and Carpet Installers, Interior Design, House Painters, Roofing Contractors.  Education, Real Estate Training, Schools, Universities, Language Education, Schools, eLearning. Entertainment, Celebrity Websites, Government Websites, National Web Information Sites, Humanitarian Companies, Law, Lawyers, Immigration, Legal Services, Attorney, Bail Bonds Companies, Hair Salons, Message Services, Electrolysis Hair Removal, Make Up Artists, Home and Garden, Home Improvements, Home Security, Windows and Doors, Garage Door Installers, Humanitarian Companies, Non-Profit Organizations, Christian Organizations, Christian Movies, Real Estate,  Office Services, Mortgages, News, Black News, Fox News, Business News, Retail and Shopping, Clothing and Apparel, Gifts and Occasions, Office Supply, Online shopping, Small Business, Home Business, Business Consulting, Tax Consultants, Christian Services, Pets and Animals, Sports, Athletics Sporting Events, Party Buses, Limousines, Limos, Hotels, Vacation Rentals, You Tube Channels, World Wide Web Listings.
If you are interested in listing your business in this Directory, visit the Contact Page and Pay the small fee.  Then send us an email.
Please send us an email to: abusinessdirectorycom@gmail.com